Akashic Records Reading & Healing Practitioners Training
November 25 @ 10:00 am

-

5:00 pm
The term Akashic has its roots in the Sanskrit word "Akasha" meaning "ether" "sky" or "atmosphere." So, it goes without saying that the Akashic Records are thought to exist in the ether – in the non-physical plane of existence a.k.a the mental plane.
The Akashic Records are like an energetic log, a Google search for your soul. And in it are records are everything that has ever existed or taken place, human lifetimes but also the record of all universal events, thoughts, words, emotions and intent ever to have occurred in the past, present, or future in terms of all entities and life forms.
In essence, when you read your own records or the records of someone else, you are connecting with the soul of a person. It's a sacred space. One that is deeply personal, private and that spans all the lifetimes of a particular soul.
Anyone and everyone has access to them and they are very simple to open
WHY SHOULD ONE TRY TO ACCESS IT?
The more we learn about ourselves, the more self-aware we become. Almost all spiritual beliefs claim that the soul chooses the birth, as well as, it chooses its parents, and all the traumas it has to undertake in order to heal and evolve – but never can they answer why? The 'Why' in all the above situations is answered by exploring the Akashic Records. Once we understand the 'why,' we're no longer plagued with doubt, we attain a crystal-clear clarity about our lives and our soul's journey.
WHAT WILL YOU LEARN?
Learn how to access and read Akashic Records
Connect with your personal Akashic Records
Learn how to repair your personal karma
Access and understand Past Lives and their influence on your present life
Learn how to use Akashic records to see future results of your decisions
Learn how to read for other people
How to deliver professional readings to a client
Learn to get more clarity on what is going on in your own life Practices with one
another.
BENEFITS OF LEARNING & ACCESSING THE AKASHIC RECORDS?
To know our life plan
To know what karmic debts we are carrying
To live life of your dreams
To know which relationships or situations are for your highest good
To get clarity on certain challenges in your life
CERTIFICATION & TAKEAWAYS


IPHM Accredited Certification
Comprehensive Training Manual
Ability to Practice Akashic Records personally & professionally
HEAR WHAT OTHER STUDENTS HAD TO SAY…
MEET YOUR INSTRUCTOR: SHAISTA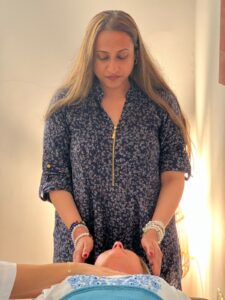 Shaista is a Family Constellations Trans-Generational Trauma Facilitator. She is also a clinical hypnotherapist and a reiki master
teacher. She believes that every person is the creator of their own destiny and is passionate about helping others take responsibility for
their successes and failures and regard life with love and positivity
She helps her clients understand the root cause of their emotional, physical, mental, or relationship problems in life by combining various healing methods. She provides therapy for issues such as Anxiety, Stress, Anger, addictions, fears, phobias, sleeping difficulties, eating disorders, obsessive thoughts, Relationship problems between parents/children OR between couples, along with providing complementary support to heal Physical ailments. Her healing process allows clients to look at their issues from a deeper perspective.
Her trainings & Sessions help clients reveal deep insight in order to assist them stepping into purpose, shift unhelpful patterns and beliefs, rapidly clear blocked energies, understand the root cause and facilitate healing.
TRAINING SCHEDULE & DETAILS 
Dates: 25 & 26 November 
Timings: 10:00 am – 5:00 pm (GST)
Investment: Early Bird – AED 2100 (+ 5 %VAT) – Full Price AED 2310 (+ 5 %VAT)
Convert into 4 easy installments with TABBY
Venue: Hub of Consciousness, Al Barsha 3, Dubai
You can book a 20 Minute complimentary Consultation to Learn More! 
Sign up for this Event!
To register for this event please fill in your details and we will send you the confirmation.