Self Love & Harmony Breathwork With Sawsan
November 24 @ 7:00 pm

-

8:30 pm
💕

𝑩𝒓𝒆𝒂𝒕𝒉𝒘𝒐𝒓𝒌 𝒇𝒐𝒓 𝑳𝒐𝒗𝒆 𝒂𝒏𝒅 𝑰𝒏𝒏𝒆𝒓 𝑯𝒂𝒓𝒎𝒐𝒏𝒚 💕
💕  In a world that often pulls us in every direction, it's easy to lose touch with the profound connection we have within ourselves. This breathwork session is an invitation to rediscover and nurture that connection, guiding you on a journey to your heart's sanctuary, where love and profound harmony reside.
💕  Our breath is not merely an automatic bodily function; it's a powerful bridge to our inner world, capable of unveiling layers of emotion, love, and vitality. Through carefully crafted techniques and guided meditation, this session will help you harness the boundless potential of your breath to uncover deep self-love and inner tranquillity.
💕  Picture a space where you can gracefully release the burdens of daily life, where tension, stress, and discord dissipate, replaced by a profound sense of inner peace and equilibrium. "Breathwork for Love and Inner Harmony" is that sacred space.
𝑻𝒉𝒊𝒔 𝒕𝒓𝒂𝒏𝒔𝒇𝒐𝒓𝒎𝒂𝒕𝒊𝒗𝒆 𝒆𝒙𝒑𝒆𝒓𝒊𝒆𝒏𝒄𝒆 𝒘𝒊𝒍𝒍 𝒆𝒎𝒑𝒐𝒘𝒆𝒓 𝒚𝒐𝒖 𝒕𝒐:
💕   Explore the boundless depths of self-love, acceptance, and profound connection.
💕   Reconnect with the wisdom residing within your heart, unlocking your true potential.
💕   Liberate yourself from stress, anxiety, and emotional baggage.
💕   Cultivate a lasting sense of inner calm, stillness, and unity.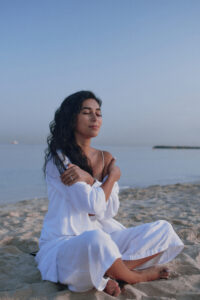 💕 𝑴𝒆𝒆𝒕 𝑶𝒖𝒓 𝑰𝒏𝒔𝒕𝒓𝒖𝒄𝒕𝒐𝒓: 𝑺𝒂𝒘𝒔𝒂𝒏 💕 
Hello lovely people! I'm Sawsan Aabed, and I'm thrilled to embark on a transformative journey with you.
 After spending 15 years with reputable organizations, I went through a series of personal and psychological struggles. The past few years, particularly last summer, tested me to my core. I experienced the heartbreak of miscarriages, a sense of being lost in life, financial setbacks, living in fear, dealing with instability, a weakened immune system, and the devastating loss of my dad.
However, from this rock bottom, I managed to shift my mindset and begin my healing journey. It was during this time that I discovered breathwork, which became an incredibly powerful tool for me. Through breathwork, I was able to dive deep into my emotions, release tension, and find solace. This experience ignited a passionate desire within me to share my learnings and breathwork.
I obtained my certification in breathwork from L.A., and it was a turning point for me. Now, I'm dedicated to creating "The__ Shift" – a transformative space where I can assist thousands of beautiful souls in pausing, connecting inward, and discovering their true selves beneath the layers of the ego.
My goal is to help individuals release stuck emotions such as stress, anxiety, traumas, and body tension. By fostering a deeper connection with themselves, my clients can create mental space, gain clarity, creativity, and move forward with ease.
Together, let's unlock the power within and embark on a path of healing and transformation.
📅 Dates: 30 September 2023
⏰ Timings: 06:30 pm – 08:30 pm (GST)
💰 Investment: AED 250 (+ 5 %VAT) 
📍 Venue: Hub of Consciousness, Al Barsha 3, Dubai
Sign up for this Event!
To register for this event please fill in your details and we will send you the confirmation.