Usui Reiki Training Level 1 & 2 with Shaista
November 11 @ 10:00 am

-

5:00 pm
WHAT IS USUI REIKI?
Usui Shiki Ryoho – the Usui System of Natural Healing – is a Japanese Healing Art. This form was founded in Japan a little over 100 years ago a by Mikao Usui, whose personal search to understand healing led him to Reiki. It is passed on from Master to student through teachings, a defined form of practice and initiation.
The Japanese word 'reiki' can be translated as 'universal life energy' and the Usui System is a way of working with reiki for healing of self and others. The word healing is used in the sense of regaining harmony and wholeness.
USUI REIKI LEVEL 1 TRAINING
The Reiki Level 1 Workshop is the foundation course for activating the flow of Reiki Energy for healing the self and others. This training is ideal for anyone wanting to increase their vitality and energy. Reiki provides an excellent foundation for exploring the energy world of healing.
You will learn:
⭐️ The history of reiki
⭐️ Principles and lifestyle
⭐️ Techniques to channel Universal Source energy for yourself.
⭐️ Hand positions, meditations, and other techniques
⭐️ Reiki Level 1 Attunement
✨ The training opens up your channels for reiki to flow through you. It is known as a connection to Divine Source at a deeper level. Once the connection is made through the attunement, it is available to you for the rest of your life.
USUI REIKI LEVEL 2 TRAINING
Reiki level 2 attunement is more subtle and higher vibration than Reiki level 1, as it further opens the chakras and increases the energy flow in your bodies. It mostly works on the mental and emotional bodies and areas that need to be cleared or resolved so that you can progress and move on in life. It can also facilitate the acceleration of your spiritual growth.
Reiki level 2 is known as the practitioner level meaning that you are equipped and qualified to apply the Reiki energy and techniques to people as clients, if you so choose. You learn how to send Reiki to a person at a distance and you will be given extra symbols to empower it.
You will learn:
⭐️Be attuned to Level 2 Reiki energy
⭐️3 sacred Reiki II symbols- their meanings and how to use them
⭐️Scan , cleanse, balance the Aura and chakra for energy
⭐️Harmonize emotions and thoughts of the past, present future;
⭐️Distant healing, send Reiki across space and time
⭐️Practice to use the 3 sacred Reiki II symbols
⭐️How to set up a professional practice;
⭐️Learning hand positions and practicing Reiki treatments how to treat yourself and friends
BENEFITS OF LEARNING REIKI HEALING
1. Attunement Process with the Universe: Reiki connects you to universal energy, thereby allowing you access to healing for yourself whenever you might need it.
2. Connection to Your Spirituality: Reiki brings you closer to your Higher Self, allowing you to be more intuitive, helping you make better decisions and giving an overall feeling of wholeness as if a missing piece of your life's puzzle has fallen into place.
3. Deep Relaxation: Reiki is an excellent tool for keeping your heart and mind calm and connected to an inner peace that will be an asset in troubled times. You will gain a sense of real self-purpose and inner clarity that may have eluded you previously.
4. Health Benefits of the Body: Self-healing on a physical level helps prevent sickness, whether it's one you've already had or one that you may have, and aids our injuries in healing fully. There is a plethora of ailments that Reiki helps soothe, from mild back pain to even cancer.
5. Direction for Your Life: You will be much closer to finding your true purpose and calling through learning Reiki, as you become reconnected with the Divine in your life. Let your mind be opened up through practicing Reiki, thus freeing up yourself and your spirit.
6. Giving Back: Ever felt like helping people, but you were totally unsure of how to go about this? Reiki extends to more than yourself in its healing. This is a gift that many would count as invaluable in their lives. Imagine helping people be free of injuries that have plagued them for years, or giving them a sense of inner peace! Giving back like this is truly its own reward.
7. Emotional Healing: Reiki can free us by helping us release the energy attached to the hardships of our past. Once this has been achieved, you are finally free to be yourself.
8. Self-Development: Reiki can change the way you deal with life and people in a way that is much healthier for you. Reiki helps you love yourself so that you can learn to love others and ask others to love you, as well.
10. "The Art of Inviting Happiness": The founder of Reiki, Dr. Mikao Usui, described Reiki as the "art of inviting happiness." Doesn't that sound like something everyone could use in their lives? Often, people don't know what happiness actually is, and seek material gains or the next promotion. But having a really, truly happy life goes far beyond that. Happiness comes from a profound understanding of the Universe and knowing your place there, which is exactly what Reiki sets out to do.
CERTIFICATION & TAKEAWAYS


IPHM Accredited Certification
Comprehensive Training Manual
Ability to Practice Reiki Healing personally & professionally
HEAR WHAT OTHER STUDENTS HAD TO SAY…
MEET YOUR INSTRUCTOR: SHAISTA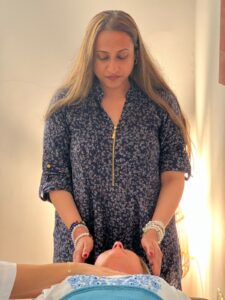 Shaista is a Family Constellations Trans-Generational Trauma Facilitator. She is also a clinical hypnotherapist and a reiki master teacher. She believes that every person is the creator of their own destiny and is passionate about helping others take responsibility for their successes and failures and regard life with love and positivity.
She helps her clients understand the root cause of their emotional, physical, mental, or relationship problems in life by combining various healing methods. She provides therapy for issues such as Anxiety, Stress, Anger, addictions, fears, phobias, sleeping difficulties, eating disorders, obsessive thoughts, Relationship problems between parents/children OR between couples, along with providing complementary support to heal Physical ailments. Her healing process allows clients to look at their issues from a deeper perspective.
Her trainings & Sessions help clients reveal deep insight in order to assist them stepping into purpose, shift unhelpful patterns and beliefs, rapidly clear blocked energies, understand the root cause and facilitate healing.
TRAINING SCHEDULE & DETAILS 
 Dates: November 11 & 12.
 Timings: 10:00 am – 5:00 pm (GST)
 Investment: Level 1 – AED 899 (+ 5 %VAT); Level 2 – AED 1200 (+ 5 %VAT)
(Sign up for Level 1 & 2 Together and receive an additional 10% Discount)
Convert into 4 easy installments with TABBY
 Venue: Hub of Consciousness, Al Barsha 3, Dubai
You can book a 20 Minute complimentary Consultation to Learn More! 
Sign up for this Event!
To register for this event please fill in your details and we will send you the confirmation.