Sufi Retreat- "The Way of the Heart" With Nirupam
October 22 @ 10:00 am

-

5:00 pm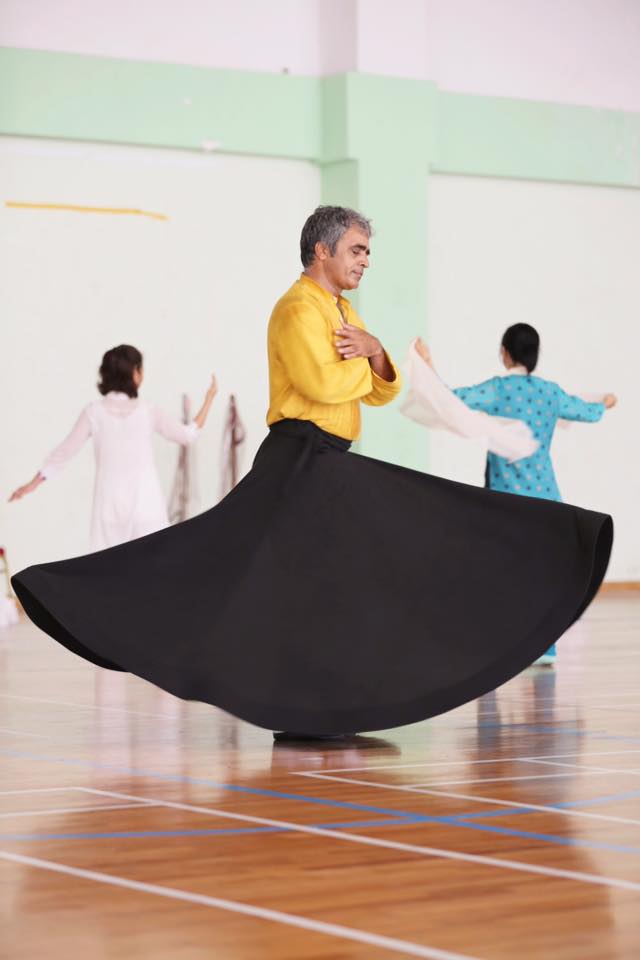 ☯ 𝑨 𝑱𝒐𝒖𝒓𝒏𝒆𝒚 𝒘𝒊𝒕𝒉𝒊𝒏 𝒕𝒉𝒓𝒐𝒖𝒈𝒉 𝒘𝒉𝒊𝒓𝒍𝒊𝒏𝒈, 𝒄𝒉𝒂𝒏𝒕𝒊𝒏𝒈, 𝒃𝒓𝒆𝒂𝒕𝒉𝒊𝒏𝒈, 𝑺𝒖𝒇𝒊 𝑷𝒐𝒆𝒕𝒓𝒚, 𝑴𝒐𝒗𝒆𝒎𝒆𝒏𝒕 𝑴𝒆𝒅𝒊𝒕𝒂𝒕𝒊𝒐𝒏𝒔
☯ Close your eyes, fall in love, stay there.  Rumi
☯ Sufi is a mystical way; it is the essence in the heart. It is the ancient wisdom of the heart, the way of love born from that wisdom. It is the rediscovery of our true nature and its realization.This 2 day retreat  is designed to take you beyond your usual self to uncover this essential truth through the precious path of love and celebration.
 ☯ This workshop is centred around love — love in all its forms and names: kindness, empathy, compassion, passion, ecstasy, devotion, friendship, intimacy, caregiving, playfulness, kinship, mercy, grief, forgiveness, gratitude, blessing, service.
 ☯ The intention of this workshop is to help deepen your capacity to love in all these ways. We are, in essence, loving beings obstructed in our capacity to love. You will inquire into what is obstructing your capacity to love — in relationships, in your experience of life,  in loving your own self — and open yourself to ways of releasing those obstructions.
☯ During the workshop; you will be introduced to a wide range of powerful Sufi Methods and techniques in order to connect to your true inner being, expand the fullness of your heart and experience supreme love and joy such as:
☯ Zikr (Musical Remembrance Meditation)
☯ Whirling
☯ Heart Practices
☯ Meditation Techniques
☯ Meditations from the world of Osho
☯ Gurdjieff sacred movements (A powerful tool of transformation)
☯ Rumi Poetry
☯ The workshop will create a sacred, supportive space for you to release energy that no longer serves you and relax and open our heart, body, and mind. Experience Love through the ancient practice of Sufism –  a gateway for self-growth and spiritual transformation – through movement, music, love, stillness and contemplation.
 "Come, come, whoever you are. Wanderer, worshiper, lover of leaving. It doesn't matter. Ours is not a caravan of despair. come, even if you have broken your vows a thousand times. Come, yet again , come , come."
― Rumi 
𝑴𝒆𝒆𝒕 𝑶𝒖𝒓 𝒊𝒏𝒔𝒕𝒓𝒖𝒄𝒕𝒐𝒓 : 𝑵𝒊𝒓𝒖𝒑𝒂𝒎
Nirupam, An Osho sanyassin has been on the Sufi path of meditation for the last 30 years and sharing it for the last 15 years. He leads Sufi meditation workshops, Sufi whirling, Gurdjieff sacred dances, Osho meditations and self-inquiry intensives across the Globe.
𝑻𝑹𝑨𝑰𝑵𝑰𝑵𝑮 𝑺𝑪𝑯𝑬𝑫𝑼𝑳𝑬 & 𝑫𝑬𝑻𝑨𝑰𝑳𝑺 
 Dates: October 21st & 22nd 2023  
 Timings: 10:00 am – 5:00 pm (GST)
 Investment: AED 1800 (+ 5 %VAT)
 Convert into 4 easy installments with TABBY
 Venue: Hub of Consciousness, Al Barsha 3, Dubai
You can book a 20 Minute complimentary Consultation to Learn More! 
Sign up for this Event!
To register for this event please fill in your details and we will send you the confirmation.