Metaphysics & Science of Crystal Healing with Era
October 29 @ 10:00 am

-

4:00 pm
Powerful. Embodied. Down-to-earth.
Immerse in a transcendent crystal healing experience… without the sparkly fluff. Crystals and gemstones have been used for thousands of years as powerful healing aids. This workshop will give you a deeper understanding in one of Mother Nature's wonderful and natural therapies, and you'll soon find yourself pleasantly involved in crystal energy work as part of your daily life.
Not only that, you will learn to get in touch with your own crystalline energy and tap into the deep intuition that exists within you!
­
YOU WILL LEARN:
💎Scientific & spiritual secrets of energy & vibration
💎The physics & metaphysics of crystals & their properties
💎Crystals in the Atlantean & Lemurian stories
💎How to direct energy through & around the body
💎Traditional colour healing properties.
💎 How to select crystals?
💎 How to cleanse & charge crystals
💎 How to attune to crystals
💎 How to make Crystal Grids
💎 How to make Crystal Elexers
💎 How to perform healing with crystals
"
TAKEAWAYS:
𝒯𝒶𝓀𝑒𝒶𝓌𝒶𝓎𝓈:
💎 Comprehensive Manual.
💎 IPHM certificate.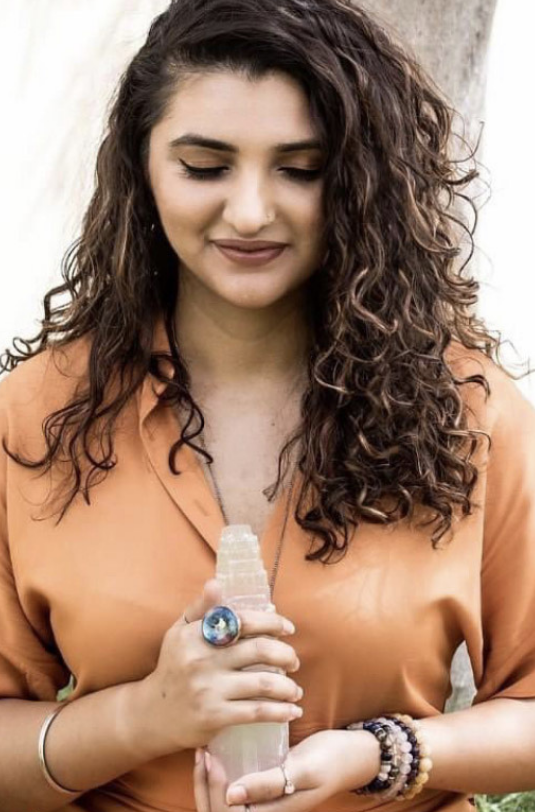 MEET YOUR INSTRUCTOR: ERA ARORA
Era is the founder of Hub of Consciousness & certified in crystal healing & body work from Australia. She has been working with crystals for over 5 years now and is deeply connected with crystaline consciousness. She offers rare insights into activating the power of crystals to enhance your self transformation journey.
­
TRAINING SCHEDULE & DETAILS 
Dates: October 28 & 29 2023
 Timings:| 10:00 am – 4:00 pm (GST)
 Investment: Early Bird  AED 1500 (+ 5 %VAT) Full Price AED 1650 (+ 5 %VAT)
–Convert into 4 easy installments with TABBY
 Venue: Hub of Consciousness, Al Barsha 3, Dubai
You can book a 20 Minute complimentary Consultation to Learn More! 
Sign up for this Event!
To register for this event please fill in your details and we will send you the confirmation.