Family Constellations Practitioner Training Module 1
August 12 @ 10:00 am

-

5:00 pm
WHAT IS FAMILY CONSTELLATIONS?
Family constellations is a therapeutic approach designed to help reveal the hidden dynamics in a family or relationship in order to address any stressors impacting these relationships and heal them. Many individuals report achieving significant insight and clarity through constellation work because of the subjective therapeutic process and experiential nature of family constellations. This alternative approach was developed by German psychotherapist Bert Hellinger in the mid-1990s. Family constellations work is considered most effective in addressing concerns that are systemic in nature. These concerns might include the family of origin issues, parent-child relationship difficulties, and intimate relationship challenges.
ABOUT OUR FAMILY CONSTELLATION TRAINING
The Family Constellations training, is primarily a deep inner journey which can be taken for personal development. Trainings are specifically designed for people who wish to explore a career as Family Constellators. They are also excellent for professionals who are working with people (coaches, therapists, healthcare providers, teachers, counselors, etc.) so they can incorporate Family Constellations into their current practice. You will be trained to use this systemic approach as a complete solution-oriented method, to get to a phase where clients experience deep insights that generate the necessary energy for the change they are searching for.
THE STRUCTURE OF THE TRAINING IS DIVIDED INTO 4 LEVELS:
THIS TRAININGS IS FOR THOSE WHO…
Are seeking to address negative or harmful relationship patterns
Want to attract and be in a harmonious romantic relationship
Are attempting to resolve family entanglements
Want to address parenting problems
Are experiencing painful situations: betrayal, divorce, single parenthood, abortions, miscarriage, infertility, adoption/custody)
Would like to break cycles of abuse, alienation and disconnection.
Want to uncover reasons for physical ailments, emotional and mental suffering
Want to help resolve health issues: Autoimmune, depression, anxiety, phobias, migraine, chronic pain, fibromyalgia & More
Want to quit addictions
Would like to resolve Eating Disorders
Release unexplained blocks
Want to overcome inner turmoil
Are dealing with death, loss and grief
Have experienced significant trauma or loss
Are in search of personal and professional success
Regain self-esteem, confidence, positivity and joy
WHY ATTEND THIS TRAINING AT HUB OF CONSCIOUSNESS?
Understand your own present-day issues with the help of Systemic lens
Gain a broader perspective on life, relationships, money, diseases etc and learn one of the most exceptional healing method that caters to Trans-Generational traumas in families.
Begin your professional Career as a family constellator
1:1 Mentoring provided for a month to ensure your practice is fully integrated
IPHM Approved certification allowing you to practice internationally
CERTIFICATION & TAKEAWAYS


IPHM Accredited Certification
Comprehensive Training Manual
Facilitate 1:1 Family Constellation Sessions Facilitation
Facilitate Group Family Constellation Workshops
HEAR WHAT OTHER STUDENTS HAD TO SAY…
MEET YOUR INSTRUCTOR: SHAISTA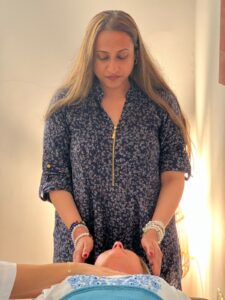 Shaista is a Family Constellations Trans-Generational Trauma Facilitator. She is also a clinical hypnotherapist and a reiki master
teacher. She believes that every person is the creator of their own destiny and is passionate about helping others take responsibility for
their successes and failures and regard life with love and positivity
She helps her clients understand the root cause of their emotional, physical, mental, or relationship problems in life by combining various healing methods. She provides therapy for issues such as Anxiety, Stress, Anger, addictions, fears, phobias, sleeping difficulties, eating disorders, obsessive thoughts, Relationship problems between parents/children OR between couples, along with providing complementary support to heal Physical ailments. Her healing process allows clients to look at their issues from a deeper perspective.
Her trainings & Sessions help clients reveal deep insight in order to assist them stepping into purpose, shift unhelpful patterns and beliefs, rapidly clear blocked energies, understand the root cause and facilitate healing.
TRAINING SCHEDULE & DETAILS 
Dates: 11, 12 & 13 AUGUST  
Timings: 10:00 am – 5:00 pm (GST)
Investment: AED 2700 (+ 5 %VAT) 
Convert into 4 easy installments with TABBY
Venue: Hub of Consciousness, Al Barsha 3, Dubai
You can book a 20 Minute complimentary Consultation to Learn More! 
Sign up for this Event!
To register for this event please fill in your details and we will send you the confirmation.