Emotional Freedom Technique Tapping Practitioner Training
July 15 @ 10:00 am

-

5:00 pm

AED2310
​

🇼​​🇭​​🇦​​🇹​ ​🇮​​🇸​ ​🇪​​🇲​​🇴​​🇹​​🇮​​🇴​​🇳​​🇦​​🇱​ ​🇫​​🇷​​🇪​​🇪​​🇩​​🇴​​🇲
​ ​🇹​​🇪​​🇨​​🇭​​🇳​​🇮​​🇶​​🇺​​🇪​ ?
EFT (Emotional Freedom Techniques) is a body/mind method, combining a gentle touch together with mindful attention to thoughts and feelings. EFT involves tapping with our fingertips on acupuncture/acupressure points on the face and body while concentrating upon a problem or issue we wish to resolve. While scientific research is still being done to determine exactly how EFT works – what is remarkable is that it works so well.
​🇼​​🇭​​🇾​ ​🇪​​🇲​​🇴​​🇹​​🇮​​🇴​​🇳​​🇦​​🇱​ ​🇫​​🇷​​🇪​​🇪​​🇩​​🇴​​🇲​ ​🇹​​🇪​​🇨​​🇭​​🇳​​🇮​​🇶​​🇺​​🇪​ ?
EFT allows us to release and transform the way uncomfortable feelings like hurt, guilt, fear, or anger may be affecting our experience. EFT can also be used to help transform the thoughts and beliefs behind our emotional experiences. After just a few rounds of tapping, people often report feeling lighter and calmer and able to breathe more easily –
almost as if they now have more space inside. As we begin to notice, acknowledge, and transform how we carry our emotions, we begin to see how this may be contributing to pain, illness, or challenges in our lives. By using EFT, we can reconnect with a renewed sense of wellbeing as well as change the way stress affects us.
​🇪​​🇫​​🇹​ ​🇨​​🇦​​🇳​ ​🇭​​🇪​​🇱​​🇵​ ​🇾​​🇴​​🇺​/​🇾​​🇴​​🇺​​🇷​ ​🇨​​🇱​​🇮​​🇪​​🇳​​🇹​​🇸​ ​🇼​​🇮​​🇹​​🇭​ ​🇸​​🇴​​🇲​​🇪​ ​🇴​​🇫​ ​🇹​​🇭​​🇪​ ​🇫​​🇴​​🇱​​🇱​​🇴​​🇼​​🇮​​🇳​​🇬​ ​🇨​​🇦​​🇸​​🇪​​🇸​:
🌾 Relieve stress and promote general relaxation
🌾Release and transform painful, uncomfortable or "negative" emotions like anxiety, sadness, anger, guilt, frustration, etc.
🌾 Improve or even eliminate physical discomfort or pain
🌾Increase self-esteem, clear-thinking, positive feelings and a sense of greater peace
🌾Heal the effects of emotional trauma
🌾Improve performance (artistic, professional, athletic, sexual, etc.)
🌾Maximize creativity, visioning, and goal setting
🌾Increase energy and productivity
🌾Diminish cravings for food and addictive substances
🌾Foster better sleep and sleep habits
🌾Resolve financial blocks and help us change our financial behaviour
🌾Address relationship problems
🌾Empower children, parents and families
🌾Resolve emotional eating and weight issues
🌾Promote spiritual growth, self-empowerment and confidence
🌾Move us beyond self-limiting beliefs and open us towards greater possibilities – and so much more…
​🇹​​🇦​​🇰​​🇪​​🇦​​🇼​​🇦​​🇾​​🇸​⦂
🌾Comprehensive Manual.
🌾IPHM certificate.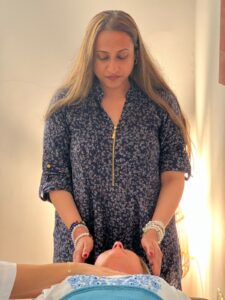 🇲​​🇪​​🇪​​🇹​ ​🇴​​🇺​​🇷​ ​🇮​​🇳​​🇸​​🇹​​🇷​​🇺​​🇨​​🇹​​🇴​​🇷​- ​🇸​​🇭​​🇦​​🇮​​🇸​​🇹​​🇦​
As an Intuitive Empath, Shaista Connects with people at a deeper level and helps them understand themselves and their lives in ways they havenever imagined. It enables them to move stuck energy and emotions from their mind and body, and empower personal growth. She assists with helping you step into purpose, shift patterns, rapidly clear blocked energies, understand the root cause and facilitate healing.
Dates and Timings:  July 15 & 16  2023   | 10:00 am – 6:00 pm (GST)
Investment: AED 2200 (+ 5 %VAT) –Convert into 4 easy installments with TABBY
Venue: Hub of Consciousness, Al Barsha 3, Dubai
Sign up for this Event!
To register for this event please fill in your details and we will send you the confirmation.