Re-birthing Breathwork with Zivile
October 12 @ 7:00 pm

-

9:00 pm
🍃

Re-birthing Breathwork

🍃
🍃 Rebirthing is perhaps the most valuable self-healing ability that humans can learn. We cannot have disease and relaxation in the same space at the same time. Relaxation is the ultimate healer. Every breath induces relaxation. Therefore, breathing is the basic healer.
🍃 The use of conscious connected breath creates an energy flow in the body that softly "forces out" or helps release stuck negative emotions which are stored in the "cellular memory" of the body. As these emotions are integrated and the breathing and energy flow continues, the person reaches a higher level and may experience profound states of bliss, clarity, and understanding about the issues and problems they are facing or learn something new about themselves. The technique of long and careful attention to the circular breath reveals multiple layers of inhibitions and unconscious patterns of protection that we have developed from birth and that has blocked our ability to feel joy, happiness throughout our lives. After Rebirthing Breathwork practices people feel liberated and calm, and that may change the way the they feel about themselves or a situation.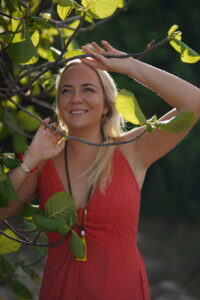 Meet Our Instructor: Zivile 
𝐙𝐢𝐯𝐢𝐥𝐞 started her Breathwork journey 5 years ago, following the loss of her mother. At that time, she was suffering from anxiety and panic attacks on a daily basis. She was struggling to fit into "normal" life and feel the happiness and joy of living. Zivile has then discovered Breathwork practices, that helped her to reconnect with herself and discover the true happiness and purpose of life.
Zivile has since changed her life path completely and left 11 years of life and career back in London and moved to Koh Phangan to teach Breathwork and help others to reconnect with themselves. She has also been sharing this amazing tool in Dominican Republic, Lithuania, and most recently Thailand.
Zivile combines different techniques of Breathwork to guide people back to themselves and reconnect with their true divine energy. She facilitates Tetra breath, Rebirthing Breathwork, So Ham Breathwork, Shamanic Breathwork and others. Zivile is also facilitating Osho Active meditations, Social meditations and other self-development practices.
📅 Dates: 12 October 2023
⏰ Timings: 07:00 pm – 09:00 pm (GST)
💰 Investment: AED 250 (+ 5 %VAT) 
📍 Venue: Hub of Consciousness, Al Barsha 3, Dubai
Sign up for this Event!
To register for this event please fill in your details and we will send you the confirmation.