Bio Development inner child with Zivile
October 18 @ 7:30 pm

-

9:00 pm
🌈

Inner Child

🌈
🌈 Indulge in a profoundly beautiful journey, where we tenderly connect with our inner child, offering them the warmth and affection they deserve.
🌈 This is a transformative experience that transcends time, allowing you to revisit the innocence of your past self and wrap them in a cocoon of love and care.
🌈 Join us on this soul-enriching voyage, where you'll rediscover the pure essence of your innermost being. This practice is an opportunity to nurture your inner child and set them free to thrive once more.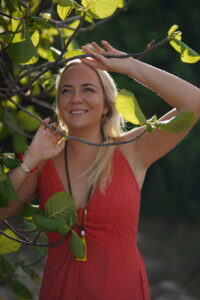 🌈 Meet Our Instructor: Zivile 
𝐙𝐢𝐯𝐢𝐥𝐞 started her Breathwork journey 5 years ago, following the loss of her mother. At that time, she was suffering from anxiety and panic attacks on a daily basis. She was struggling to fit into "normal" life and feel the happiness and joy of living. Zivile has then discovered Breathwork practices, that helped her to reconnect with herself and discover the true happiness and purpose of life.
Zivile has since changed her life path completely and left 11 years of life and career back in London and moved to Koh Phangan to teach Breathwork and help others to reconnect with themselves. She has also been sharing this amazing tool in Dominican Republic, Lithuania, and most recently Thailand.
Zivile combines different techniques of Breathwork to guide people back to themselves and reconnect with their true divine energy. She facilitates Tetra breath, Rebirthing Breathwork, So Ham Breathwork, Shamanic Breathwork and others. Zivile is also facilitating Osho Active meditations, Social meditations and other self-development practices.
📅 Dates: 18 October 2023
⏰ Timings: 07:30 pm – 09:00 pm (GST)
💰 Investment: AED 200 (+ 5 %VAT) 
📍 Venue: Hub of Consciousness Gardens, JVT , Dubai
Sign up for this Event!
To register for this event please fill in your details and we will send you the confirmation.